Kim Kardashian Calabasas Sighting!
Oct 11, 2009 Author: admin | Filed under:
Kim Kardashian News
,
Kim Kardashian Pics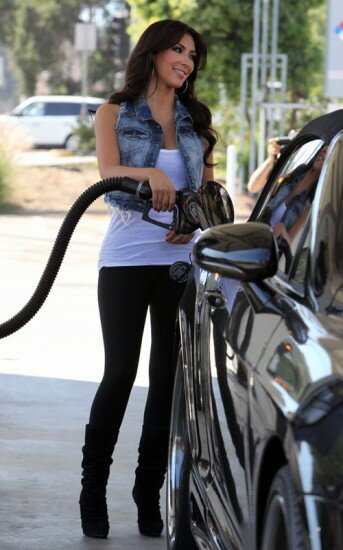 Kim Kardashian has been incredibly busy lately, appearing on the David Letterman show, attending various openings (including one for a cupcake franchise), but she does have the occaisional day off. Here she is on one of those days off in Calabasas early on Saturday.
Paparazzi spotted her at the gas station filling up, but Kim was prepared, already with full makeup on and looking very fashionable. She was driving her black Bentley, a sexy car for a sexy girl. Kim posed for photographs with a couple of fans before driving off such a sweetheart.
Kim is still tweeting madly, sending this tweet to her sister Khloe: "I hate waking up soooo early on the weekends&. But I'm thankful I have a job!"
No related posts.
Related posts brought to you by Yet Another Related Posts Plugin.
Tags:
kim kardashian
,
Kim Kardashian ews
,
Kim Kardashian Pics
,
Kim Kardashian Sighting
,
Kim Kardashian Tape
,
KIM KARDASHIAN VIDEO